Glendale, AZ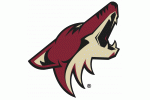 Jobing.com Arena
Phoenix Coyotes
NHL - Western Conference
Glendale, AZ
Date Visited: Oct. 23, 2010
Notes:

I visited this arena as part of an extended weekend trip to Phoenix, AZ in Oct, 2010.
Four baseball games
One NBA game (first for me)
One NHL game
Three 'double' headers (two games a day)
31 runs seen in one day
7-8 hours of baseball watched in one day
One new ballpark for me
One new hockey arena for me
300+ miles driven by Leon
Harlow Café, Pei Wei, Margaritaville, Bill Johnson's
Finding someone who enjoys it as much as me….. Priceless!!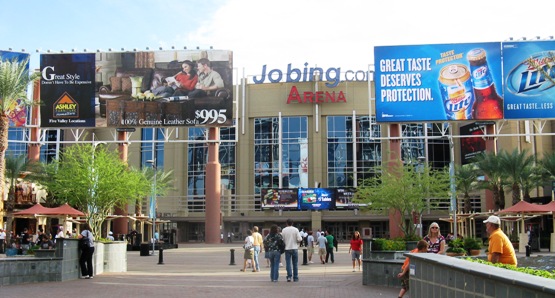 Jobing.com Arena has a wonderful outdoor mall and entertainment center, called Westgate City Center, just outside its entrance.
There's a whole variety of restaurants, a movie theater, hotels, water fountain display, and retail shops. Very, very nice.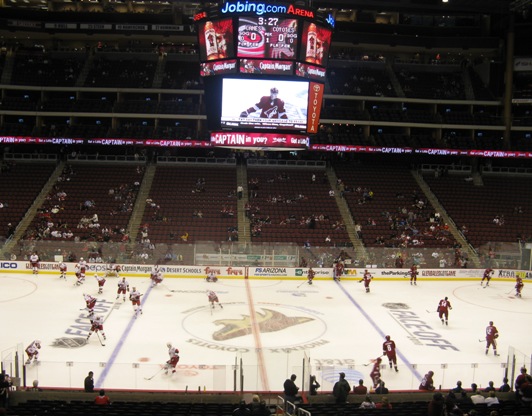 Taken during warmups. This arena was built in 2003. The Coyotes played their first game here on Dec. 27, 2003 when the facility was known as Glendale Arena. As with many stadiums and arenas, Jobing.com bought the naming rights in 2006 and the arena was renamed.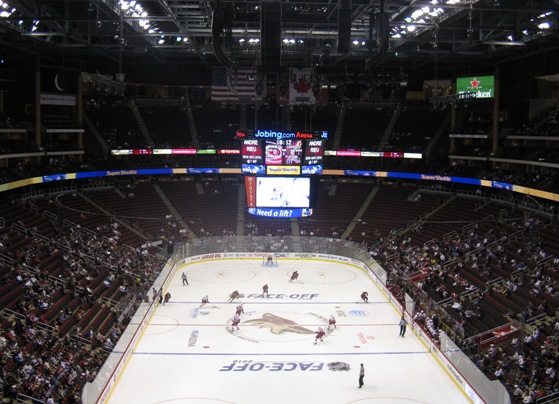 Taken from where our seats were. A nice place to watch a 'play' develop.
The arena had four seating levels. A very nice display of both the US and Canadian flags.
The game itself got pretty exciting in the third period. The Coyotes tied it up 3-3 in the third after starting the period with no goals. They did end up losing in OT.
This evening SF won the National League Conference Championship title and were going to the World Series. Jobing.com provided updates on their video boards of that game.

Phoenix Coyotes
Phoenix Suns
Arizona Diamondbacks


Hockey Home Page
Baseball Home Page