Rome, GA
State Mutual Stadium
Rome Braves
Sally League
A Atlanta Braves
755 Braves Boulevard
Rome, GA 30161
706-368-9366

Date Visited: August 14, 2010
Customer Service: Customer service was horrible at the ballpark. Due note: Other points and observations I made of this stadium may be tainted by the poor service we received here.
Security man was nasty. "What's the risk of bringing in a sealed bottle of water?" Ans (very rudely) = "It's policy." To me, that's not a valid answer. WHY is it policy?
Asked for seats with no steps up. Received tickets to the highest point in the seating area. At first, wouldn't allow us to exchange them. "We're not allowed to exchange tickets."
The only place it looked like I could get good beer (not that Budweiser, Coors, Miller stuff) was in an area (Three Rivers Club) where you had to have 'special' tickets to get in.
East of getting in/out: It was relatively easy for me. Jason drove again so I didn't have to worry. Thanks, Jason.

Music Level: Music was loud but not as loud as at Coors Field.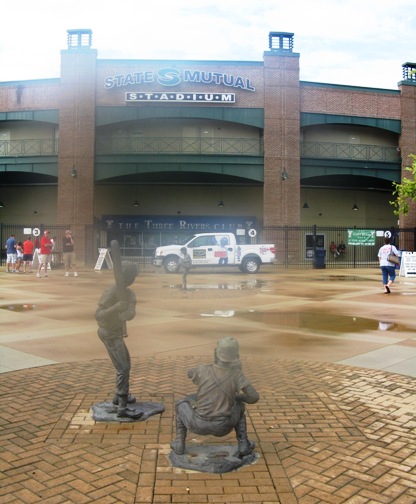 They had nice statues on the outside of the stadium.
It had rained - actually Jason and I got drenched - a bit earlier but no rain during the game.

There are two restaurants within walking distance of the stadium to have a bite to eat. A Fuddruckers (across the street) and an Italian place (in the same parking lot). We went to the Italian place.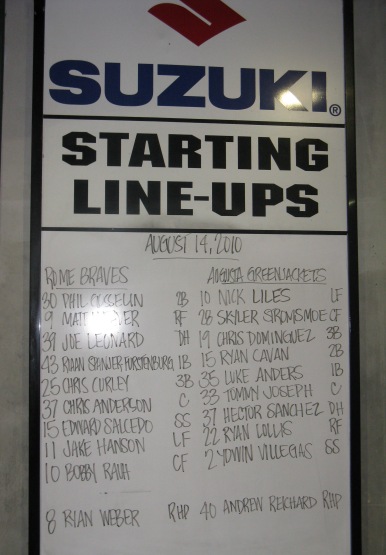 The starting lineup was posted as expected.
Perhaps I'll see some of these players in the AFL this year or we'll see them at higher levels of baseball in several years.
Randy Ingle is the manager of the Rome Braves. He was the manager when the Greenville Braves won the Southern League Championship in 1997.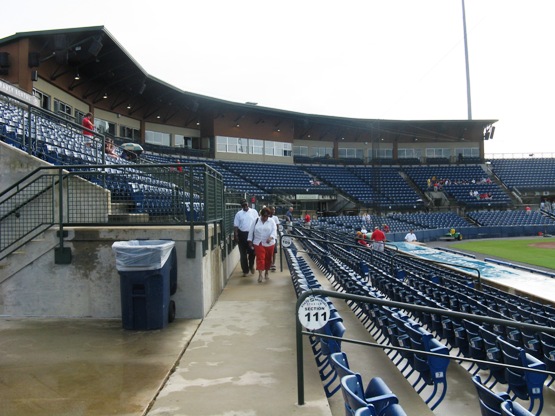 Here're the stands.
The net did not go from dugout to dugout. Looked like it was just behind the homeplate area.
Two seating levels plus an 'upstairs' for skyboxes and announcers.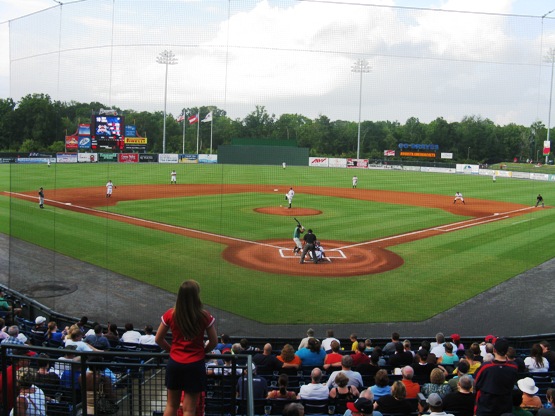 The field. Not a bad looking one.
The cheerleader - red shirt, black shorts - stood there THE ENTIRE game. She wasn't blocking the view of my game but why would an organization have an employee stand in the way of paying fans watching a game? It just boggles my mind.
The Braves organization is generally pretty decent at stuff like that. Not sure what happened at this game/ballpark. I have no desire to go back.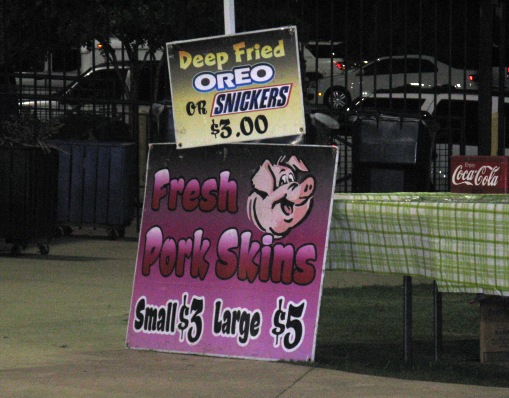 This does not even sound right.



Website: Rome Braves