Most of the fans sit on the third base side since that's where the shade is.
You can see openings in the concourse so one can catch glimpses of the game while walking around the venue.
The home dug out is on the third base side.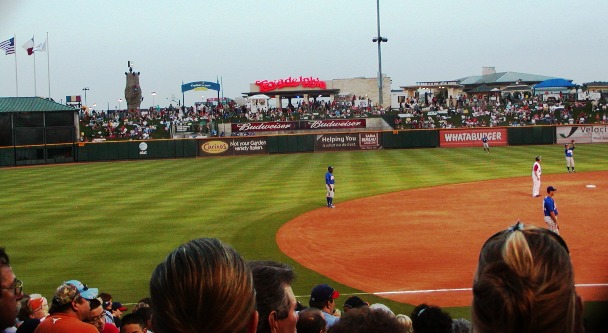 Here's a little bit of what the outfield looks like.

Above the Whataburger and the AT&T ads on the outfield wall are seating areas in the grass. Folks can choose to bring a blanket and sit out there to watch the game. More than likely, they are watching their kids doing all the other stuff this ballpark offers. Beyond the grassy berms, there are all kinds of other entertainment: a playground, picnic areas, picnic tents, pitching practice areas, etc.

You can see a rock climbing wall in this photo. It's that tall brown column beyond the outfield. They also had one of those swings where they wrap you around the waist with a big secure strap and you can jump up and down, spin around, do tumblesaults in the air, and throw up.




The seating area above left field is known as Home Run Porch. This was added when the ballpark changed from a double-A to a triple-A ballpark. To the right of that is the scoreboard.
This photo was taken as Joe gave me the tour and 'scoop' of the Dell Diamond. One can walk the entire concourse around the field, a very nice feature common among newly built ballparks.
See photo below for view from outfield.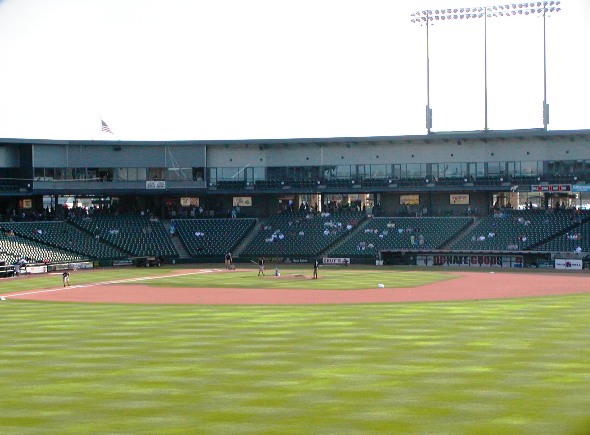 The seating area (photo taken way before the game started) taken from center field. All the playground, picnic area, etc. shown two photos above is behind me.
This shows a good example of the shade on the home/third base side; the sun glaring on the first base side.
I don't know.... to me.... the facade of the sky boxes are kind of plain. But maybe that's the way the players want it. No distractions. Any players out there who happen to read this and care to comment, please send me an email.