San Antonio Missions
Nelson W. Wolff Stadium
Texas League

Game Notes:
Date visited: May 23, 2008


Ease of getting in and out: Excellent. Easy access to highway and frontage road. Only a mile from hotel where I stayed.


Teams/Score:
San Antonio Missions = 5
Springfield Cardinals = 2


Customer Service: Excellent. I felt very welcome at this stadium.


Announcer/Music: The announcer did a superb job at announcing the starting line up. He said it slowly and repeated it. Excellent for those of us who keep score. The music level was, pleasantly and surprisingly, not loud at all. Generally, music was not played between pitches. It was really quite a nice experience to not hear all that noise.


Address:
Nelson W. Wolff Stadium
5757 Highway 90 West
San Antonio, TX 78227
210-675-7275
Other Things To Do in the Area:
LaQuinta Inn Lackland
San Antonio Missions Website
San Antonio Zoo
River Walk

Photos: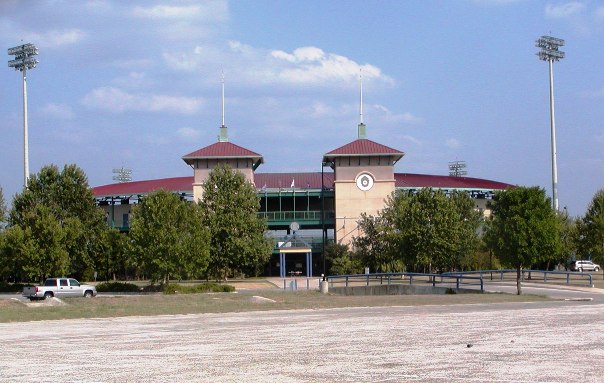 Nelson W. Wolff Stadium
After checking into my hotel (the LaQuinta noted in the link section above), I ventured out to find the stadium and get a ticket for that evening. The stadium was only a mile or so from the hotel where I stayed.
It is a beautiful setting for a ballpark with lots of green and trees and sun. It almost looks like an entrance way to a mission.
One nice feature this stadium has is benches for fans to sit on while waiting for the gates to open. More stadiums should do that.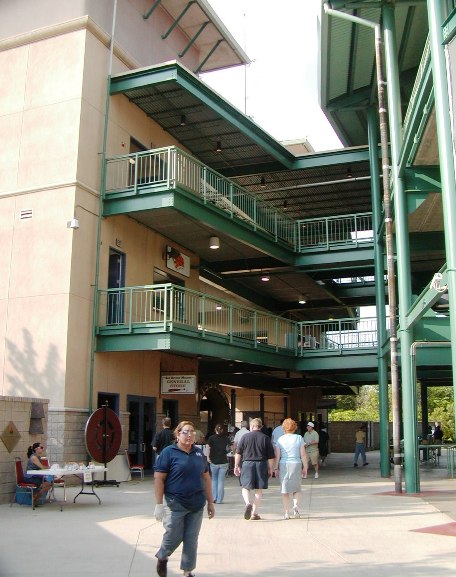 The concourse. A nice looking one. It is wide and open with not a whole lot of advertisements and gimmicks (a good thing, IMO). They had a wall with plaques of former San Antonio players that had made it to the major league and other influential members of the community (see photo below).

The stadium did have a playground for kids in the far right field side of the stadium. Couldn't see it from the seating area, which was fine by me.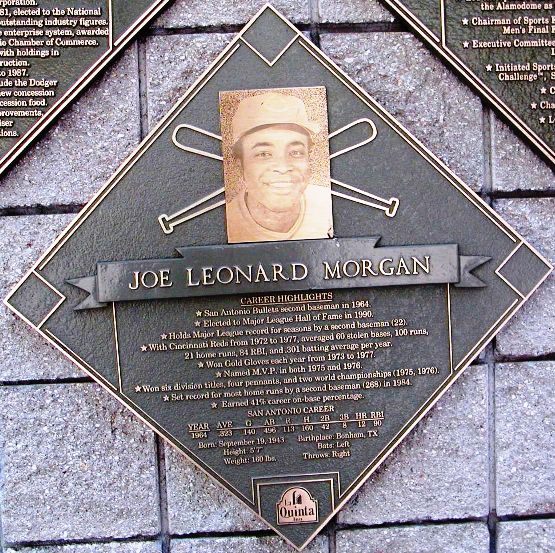 The plaque I focused on was Joe Morgan, sport analyst who used to host Sunday Night Baseball on ESPN. One whole wall was covered with these plaques. Some other names I remember are: Orel Hershiser, Nelson W. Wolff.
Do check it out if you attend a game at this stadium.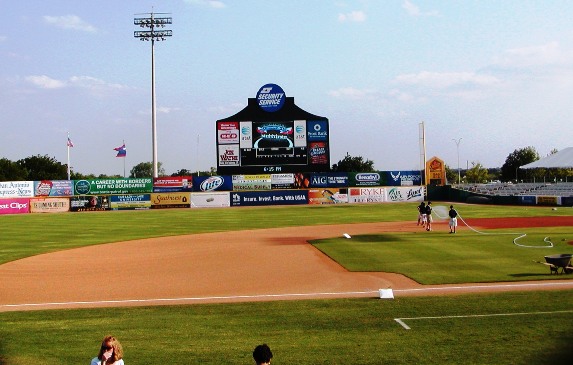 The field taken from the 3rd base side. Just about from where I was sitting. You can see the grounds crew watering down the baseline before the game.

Mascots: (not in photo)
Jalepeno Pepper
Taco

The mascots did the traditional run the bases, throw the t-shirts, and other games between a few of the innings. I felt so sorry for them. It was so HOT and those poor folks wearing those costumes must have just been melting.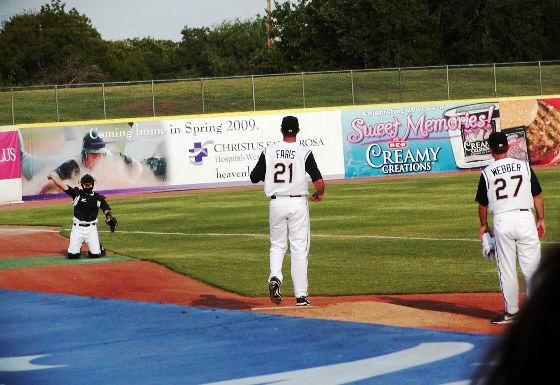 The bullpens were on the field, as noted in this photo. This is Stephen Faris, the Missions' starting pitcher for this game, warming up.





Every single, every single, every single.... Springfield player.... wore hi-socks. Sweet.

The general admission seats, as shown here beyond the first base infield, had the aluminum seat benches and backs.






Scoreboard.....4 errors by the Cardinals. Faris didn't win the game since the Missions scored their winning runs in the 8th, after he had been taken out of the game.






Summary:
Of the four stadiums I visited on this trip to Texas, I found this one my favorite. Maybe because the home team won, or the music wasn't loud, or the announcement of the starting line up, or the hi-socks of every Cardinal player. It was just a good 'ole fashion' evening at the ballpark where the focus was the baseball game.

Home Page

Texas Page


Email me: mminard@comcast.net