Corpus Christi Hooks
Texas League
Whataburger Field
734 E Port Avenue
Corpus Christi, TX 78401
361- 561-4665



Things I liked about Whataburger Field:
Rocking chairs in left field
View from seating area
Truck drivers honking their horn going over bridge
Corpus Christi Links:
Corpus Christi Hooks
USS Lexington
Corpus Chrisi Visitors Bureau
Texas State Aquarium

---

Date visited:
May 21-22, 2008

Ease of getting in and out of stadium:
Not too bad. I got excellent directions from the hotel where I was staying. If you're staying downtown, there's some one way streets to think about as well as that I-37 intersection. I had no problems getting there or back, so most other folks won't. I waited a bit to leave the stadium to avoid some traffic.

Customer Service:
It was very good.

Teams and Score:
The Corpus Christi Hooks played the Arkansas Travelers.
Final score game 1 was: Hooks = 10; Travelers = 13
Final score game 2 was: Hooks = 3; Travelers = 4


Photos: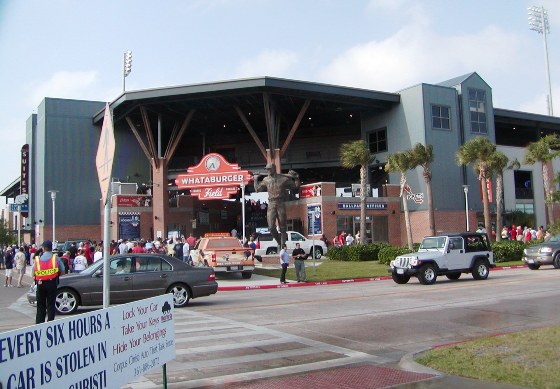 The main entranceway to Whataburger Field. In my head, I had thought Corpus Christi would be a great town to live in or retire to. After reading the sign in the lower left corner, I decided to look elsewhere.
There's a huge statue of a baseball player in front of this main entrance. Haven't quite figured out who that is or what it signifies. There were no plaques posted near it and I couldn't find anything on their website about it.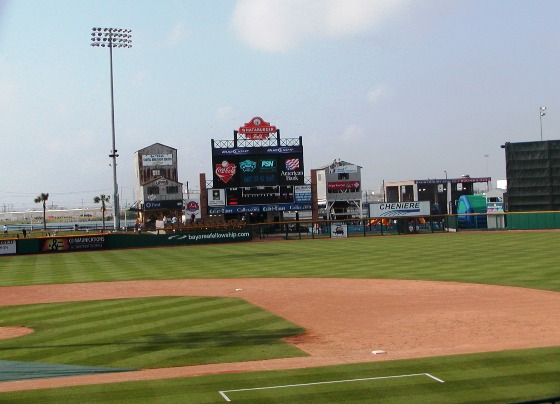 Here's a look at the field and left/center field. I didn't capture them in any photos but seagulls landed on the field, even during play.

There was a youth baseball field beyond the Cheniere sign. Scroll on down to see a more up close photo of left field.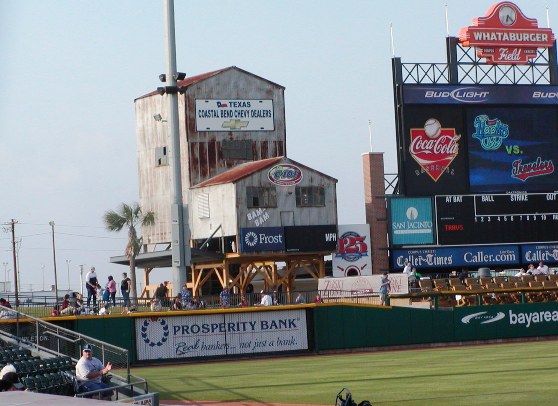 The older looking structures are compressors left there from when they were building the park. There was a playground for kids here. Note the rocking chairs just below the scoreboard. They were the most comfortable chairs. I looked for the manufacturer on the chairs as well as on the Hooks website but couldn't find who/what company built them. I would have ordered one on the spot.
If anyone from the Hooks or Whataburger Field is reading this and knows the company, please send me an email with the information. I guess that means I have to learn how to html code an email address on this site. Thanks, Mark!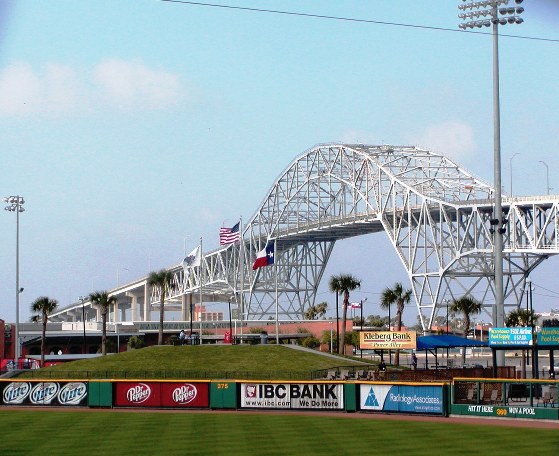 This is Harbor Bridge. A very nice view from the stadium.

I remember during the second game I attended here, after the sun had set, two different truck drivers blew their horns while driving over the bridge. I guess they saw the stadium lights on, knew there was a game being played and wanted to say hello. The coolest thing was many of the fans started waving hello back.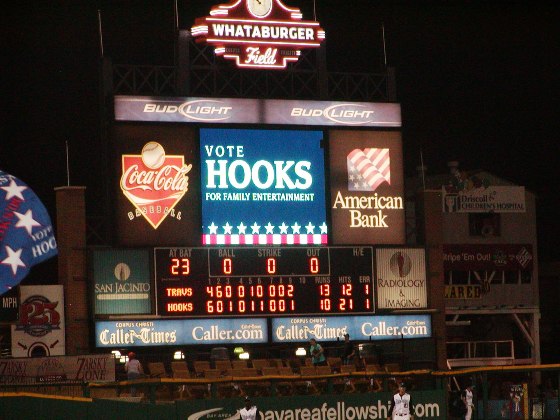 This was the score of the first game I went here.

33 hits! 23 runs!

The first inning lasted 40 minutes.

The entire game was close to 4 hours.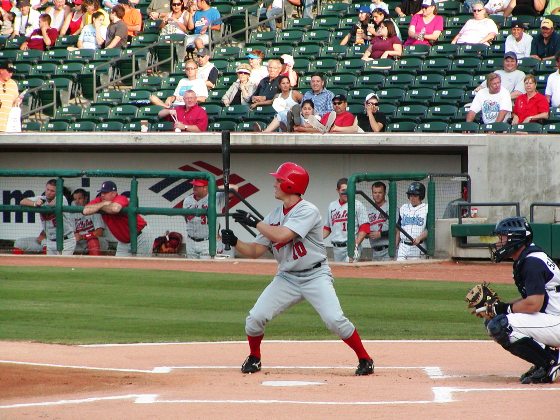 Here's an infrequent action shot.

The batter is Adam Greenberg of the Arkansas Travelers.

The catcher is Lou Santangelo of the Corpus Christi Hooks.




Other Miscellaneous Notes:
- During the 9th inning of one of the games, the fans all started shouting 'Taco!', 'Taco!', 'Taco!' I was befuddled. Turns out, if the Hooks pitchers get 10 strikeouts all fans receive a coupon for a free taco. We all did receive the coupon that night.

- I had my first ever Whataburger burger. It was huge and very tasty.

- One of the concession items was a pickle.

- The Hooks have a program (?) called Silver Sluggers. It is for individuals 55 years or older. I think you get discounts, a t-shirt, and other stuff if you join.

Home Page

Texas Page


Email me: mminard@comcast.net