Great Falls Voyagers
Great Falls, MT
Pioneer League
Rookie Affiliate of the Chicago White Sox


Centene Stadium
1015 25th Street North
Great Falls, MT 59401
(406) 452-5311
Things to do in Great Falls:
Voyagers Web Site
Lewis and Clark Interpretive Center
Great Falls Convention and Visitors Bureau


Notes and Photos:
Date Visited:
July 25, 2008. I actually didn't get to see a game in Great Falls. I did, however, stop by to see the stadium and took some snap shots.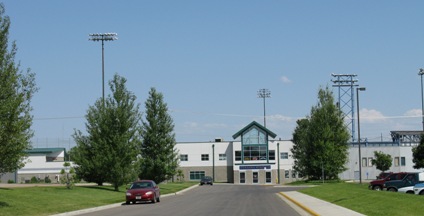 This was taken as you drive into the park. This main entranceway and to the left (third base side) are all new. To the right of the entranceway is old.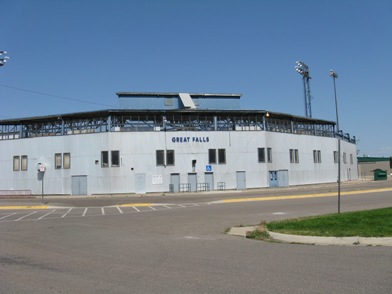 Here you can see the older portion of the stadium. I think it gives the stadium a little character keeping the older structure intact.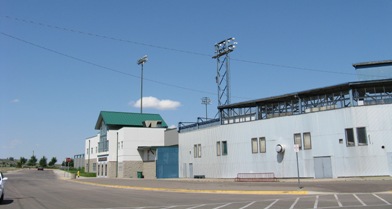 This shows both the old and the new sections of the outside of the stadium.








These steps were kind of cool. The 'gate' on to the field is closed here. I came back the next day and the grounds keeper let me in to take some inside the park photos.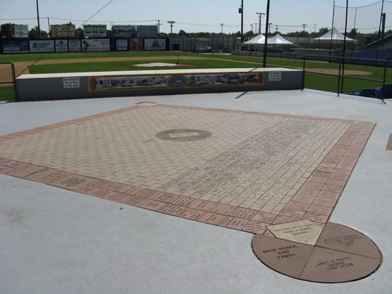 You walked up the steps and were right behind the 3rd base dugout (shown here). That's a bit different than other stadiums I've been to. There's a brick 'field' on the concourse (shown here) with names of donators on the bricks.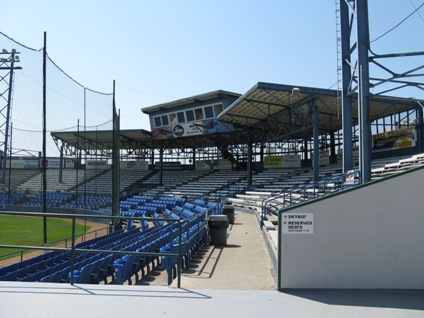 Here's the seating area. Some seats with backs - the blue ones - but mostly aluminum benches.

It's in the 'old' section as you can see the girders holding up the roof.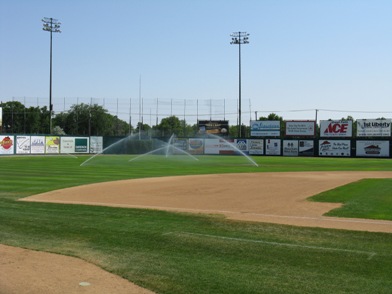 ....And the field, getting watered. There's actually two other teams that play here - local teams called the Stallions and the Electrics.


I wish I had gotten the opportunity to see a game here. It looks like a nice facility to host a game.
Home Page

Montana Page


Email me: mminard@comcast.net




Posted: 7/29/08