Fluor Field at the West End

Greenville Drive
Sally League
A Boston Red Sox
945 S. Main Street
Greenville, SC 29605
(864) 240-4528
Date Visited: August 7, 2010
East of getting in/out: It was relatively easy for me. Jason drove so I didn't have to worry. There's actually a trolley or bus that takes fans from some of the parking garages located in downtown Greenville. That's a nice feature.
Music Level: It was acceptable. They did, however, play music when announcing the batters. Very bad.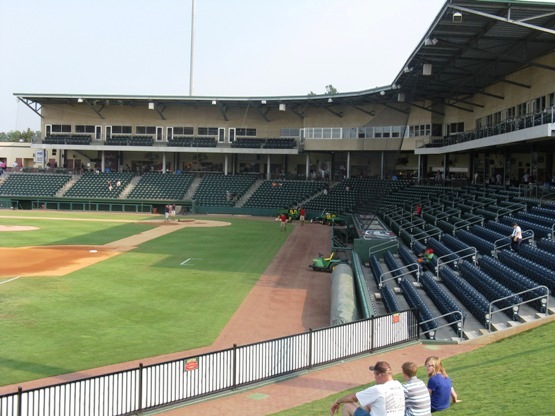 There are two entrances to the park. One on the left field side and one out beyond the first base side. There is field berm seating as noted in the lower portion of this photo.
It seats 5,700.



Customer Service: I remember customer service being fine.
Comment on Food: One of the things I have missed not living in the south anymore is the boiled peanuts at ball games. So, I ordered some boiled peanuts when I got to Fluor Field.
I'm expecting to receive a styrofoam or cardboard coffee cup filled with piping hot boiled peanuts right from the pot, covered with aluminum foil.
Instead, much to my horror, I received a vaccuum packed and sealed plastic bag filled with the peanuts that was microwaved. That is just not right!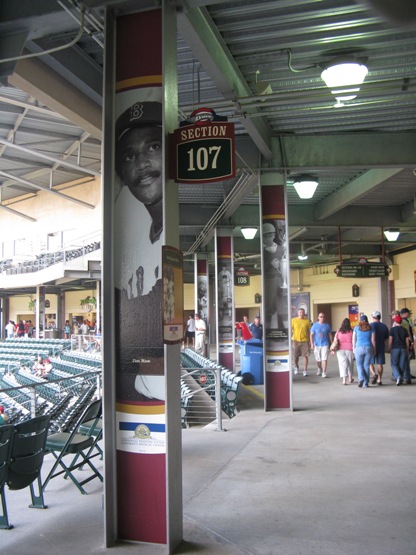 One of the very best features of this ballpark is the amount of history displayed at the park.
Every column has photos and placques from the old textile leagues, Shoeless Joe Jackson, the 1997 Southern League Champions - the Greenville Braves, Jim Rice, etc.
It is fantastic.
Just outside the stadium is the Shoeless Joe Jackson Museum. I highly recommend visiting this museum. The museum is actually the house Joe and his wife lived in. The house was transported from its original location three miles away and placed near Fluor Field.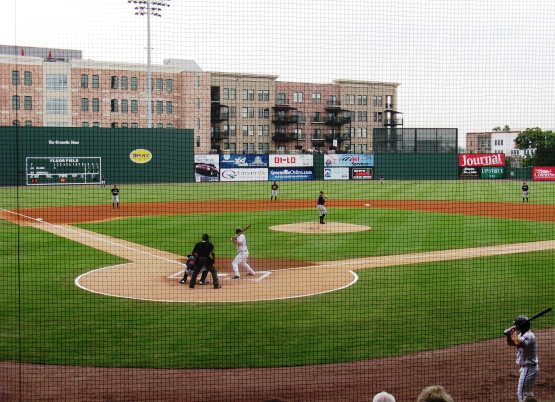 It is located right downtown Greenville, SC in the historic West End district. You can see beyond the outfield offices and apartments/lofts.
The net does go all the way from dugout to dugout; not one of my favorite things about the park.
One could not walk around the entire concourse.
The starting line up was not posted anywhere - which is quite unusual at a minor league stadium.

The visiting team's players (Rome Braves) all wore hi-socks.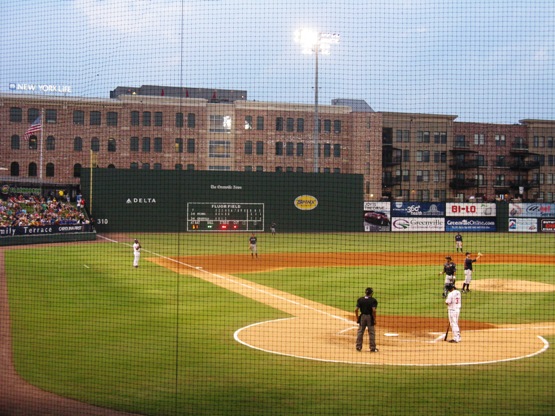 Because this team is affiliated with the Boston Red Sox, the outfield dimensions are exactly the same as in Fenway Park.
There's even a Green Monster.
In the 8th inning, all the fans got up and sang Sweet Caroline. I didn't get it. Turns out, that's what Red Sox fans do at Fenway.
At the game I attended here, there were many members of SABR at the game. SABRs annual convention was being held in Atlanta and folks made the drive to Greenville to see the stadium, the museum, the history. A perfect setting for SABR members.


Other Things to See and Do in the Area:
Greenville Drive
Shoeless Joe Museum
Greenville Zoo
Falls Park
Greenville Road Warriors - ECHL

Home Page
South Carolina Page