Reno Aces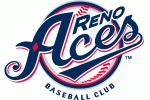 Aces Ballpark
250 Evans St
Reno, NV 89501
(775) 334-4700

The Reno Aces are a team in the Pacific Coast League; AAA affiliate of the Arizona Diamondbacks.

I graciously received a media pass from the Reno Aces and a special thanks goes out to Zak Basch for the pass.
This pass allowed me to get in the park early, walk around and check out all the facilities and features of the park, interview the staff, and have many photo opportunities.
Date Visited: July 16, 2011
Customer Service: Excellent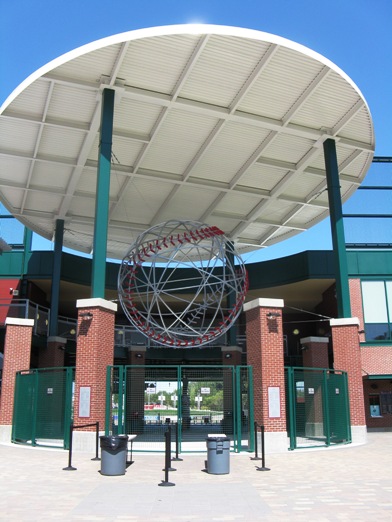 Here's the main entranceway.

The neighborhood surrounding the stadium is kind of iffy. Not a neighborhood that a female would feel comfortable walking.
Recommendation: Take a taxi or pedicab.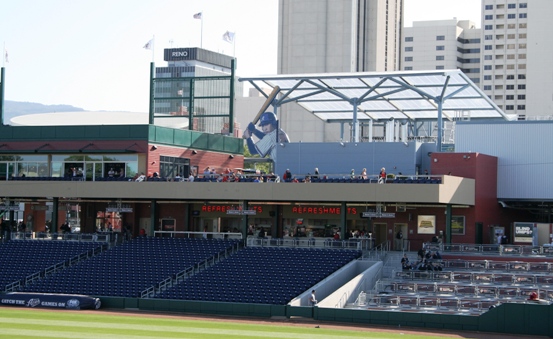 This area down the third base side on the second level is called the Freight House District.
It houses several bars and eating establishments as noted in the photo below.
Photo courtesy of Barbara Paley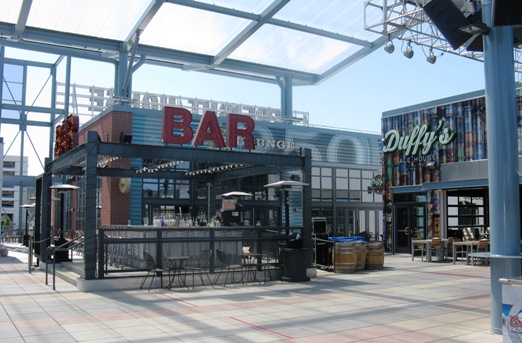 Found here is:
Duffy's Ale House

Bugsy's Sports Bar & Grill

250 Lounge

Arroyo Mexican Grill

Things I like about Aces Ballpark:
Receiving media pass
7th inning baseball head singing 'Take Me Out To The Ballgame' (more below)
Can walk around entire stadium
Light display after a run scored
A good variety of food and beverages
Dining/drinking area on second level, third base side: Freight House District
Customer service
Ledges to rest and place drinks and food around the entire park
Hanging with Barbara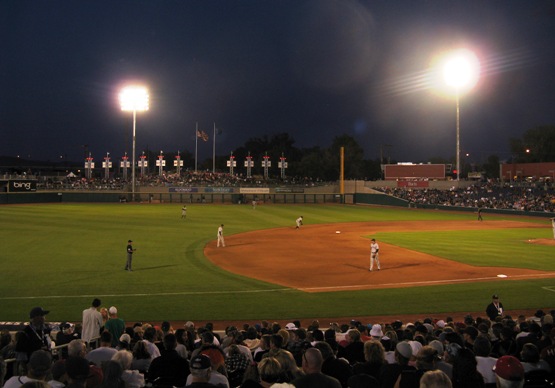 A nice night shot.
The 10 poles located in right/center field provide a fantastic 'light show' after each run for the Aces. The 'flags' on those poles display the logos of each Pacific Coast League team.
There is a grassy berm for folks to picnic.
There is a group/party area called the Captain Morgan Lookout beyond the lights in right/center field.





Things I didn't like about Aces Ballpark:
The safety of the neighborhood
They ran out of pocket schedules
Souvenir shop was cramped and crowded and they did not have decent lapel pins
There were strange noises/sounds played over the PA system at odd moments throughout the game that didn't fit in with the action on the field


One can walk around the entire concourse to see the game from a variety of spots.
There are ledges where fans can stop, park, place their belongings, and simply watch the game as desired. In this photo, you can see individuals doing just that around the left/center concourse.
Those ledges are not only in the outfield but also all along the infield concourse.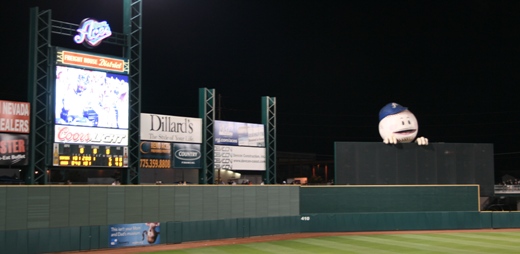 The biggest surprise and most delightful entertainment is the 7th inning stretch. There is a baseball head blown up over the batter's eye. And, this baseball head sings the 'Take Me Out To The Ballgame' song. Its lips move and sound was clear. It was so charming and unusual!
Photo courtesy of Barbara Paley





Reno Aces
Freight House District