Thanksgiving Weekend, 2006
Day One Wed, 11/22 Rio Rancho
Day Two Thurs, 11/23 Prescott Valley
Day Three Fri, 11/24 Prescott Valley
Day Four Sat, 11/25 Phoenix
Conclusion


* * * * * * * * * * * * * * * * * * * * * * * * * * * * *

Day Four, Phoenix (continued)

I spent the rest of the day walking around Copper Square. Copper Square is an area downtown Phoenix that houses several hotels, restaurants, shopping, sporting events and museums. All within walking distance. The city was in the midst of installing light rails and trains in the district. Copper Square has "ambassadors" walking, on bikes, and in booths to assist tourists and visitors. Quite a nice service.

I ended up going to an area called the Arizona Center. It was a small outdoor shopping mall. Best of all, it was warm enough to wear shorts. I was glad I had remembered to pack a pair. Before the game, I ate dinner at Steve's Greenhouse Grill. Had the shrimp special. Then headed over to the US Airways Center to see the Phoenix Roadrunners.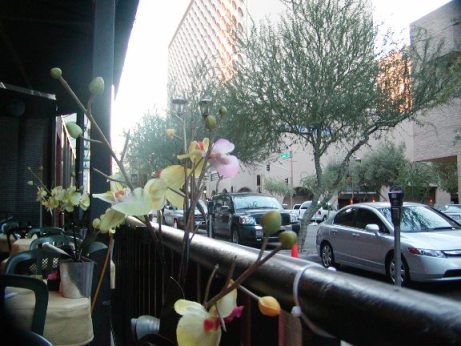 Here's a snapshot taken from Steve's Greenhouse Grill. It was warm enough to eat outside (which I did). That tall white building in the background is the Wyndam Hotel, where I stayed this visit.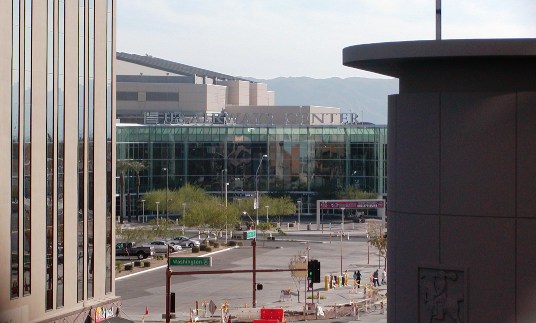 This is a view of the US Airways Center taken from my hotel room. You can see some of the construction going on for the new light rail in the bottom of the photo. The real nice thing about this area is everything is within walking distance.
Scroll down to see and read about the Roadrunners game I attended at the US Airways Center.



* * * * * * * * * * * * * * * * * * * * * * * * * * * * *
The Phoenix Roadrunners were a team of the ECHL.

Phoenix Roadrunners
201 East Jefferson St.
Phoenix, AZ 85004
602-462-4625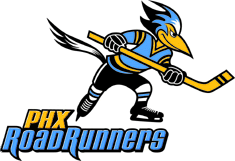 One observation I had was that the 'play' of hockey was better at the ECHL level than that at the CHL level. At least on this trip. There also were very many more fights at this game that at the previous games I attended this trip. Silly.
Below is the entranceway to US Airways Center. It is much larger than other ECHL arenas. That is because this arena's main sporting event is the Phoenix Suns of the NBA.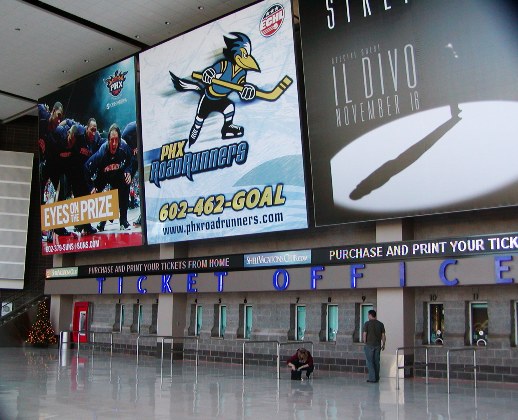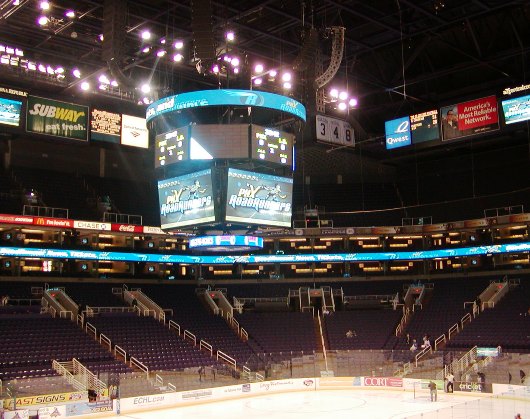 Here's a snapshot of the inside of US Airways Center, set up for hockey. As usual, I was one of the first fans to arrive for the game. The seats were filled in later but it was no means a sell out. That would be hard to do in an arena like this.


The Roadrunners ended up winning this game 8-2 against the Long Beach Ice Dogs. Five power play goals in the game, two of them were 5 x 3 PP goals. As I mentioned previously, there were a whole lot of fights and penalties in the game.

Of note, Dan Baum (former Greenville Grrrowl player) started his first game as a Roadrunner this evening. Also of note, this is for Deb, Pszenyczny played for the Roadrunners. He had one assist and one penalty according to my scoresheet.



It was also Teddy Bear Toss night. To help get fans involved in the game, and more importantly, assist with donations for children's shelters and those children who may not receive gifts at the holiday season, the Roadrunners hosted this event. After the first goal was scored by a Roadrunner, every fan got to throw a teddy bear on to the ice. It was so soft and cuddly, it was hard to give up. Not having any kind of throwing arm, mine ended up in the first row of seats. One nice fan in that row retrieved it and threw it on to the ice for me.


Here you can see them with carts picking up the teddy bears to donate to local children's charities.





. . . . . . . . . . . . . . . . . . . . . . . . . . . . . . . . . . . . . . . . . . . . . . . .